Join our live DJ's every day as they keep your classic rock coming to get you through the week.
From AC/DC to ZZ Top, we've got what you want to listen to all day, every day!
"A great way to Rock out of bed and start the Day! "Joey Butler grew up in Cape Girardeau Missouri and started radio in Memphis Tennessee. One of his favorite things about radio is reaching out to the community one person at a time. When he's not being Boom Boom Butler( because he plays the music loud), he enjoys watching baseball, and playing with his dogs along his wife and kids.
Jennifer Allen
10am-2pm
​
Jennifer Allen was born and raised on a tobacco and cattle farm in Kentucky, but came to Texas at 17 to attend Abilene Christian University. She has been on the air in Central Texas since 1996 with stints at KCKR, WACO FM, KWTX FM, and KAGG among others. Jennifer has been nominated for the Country Music Association Small Market Personality of the Year, and is a 4 time nominee for Texas Regional Radio Personality of the Year. Her proudest professional accomplishment is helping raise over 7 million dollars for St Jude Children's Research Hospital and Chilifest, Inc. Jennifer spends her free time with her hillbilly family in Kentucky and her two sons Lane and Dalton. When not keeping you company on the Eagle 106.7 you'll find her cheering on her favorite Riesel Indians on Friday nights and supporting local live music throughout Central Texas.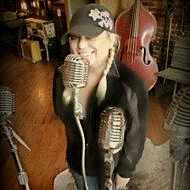 Sam Gabriel
Mon-Fri 2pm - 6pm
​
Sam Gabriel grew up on his parents' Beatles records and has loved music from that era and beyond ever since. When he isn't listening to Led Zeppelin, the Guess Who, and Yes, Sam enjoys playing video games, collecting Transformers, and practicing stupid voices around the house. He is happily married to a very patient woman named Sara, and has two cats named Logan and Midna.
The Greg Beharrell Show 7pm - 11pm
Live in Concert
Saturday from 8pm-10pm
​
Each week, we take listeners around the globe for legendary performances by the icons of rock and roll! Each program features a "headlining" artist,
as well as significant live performances by three other "opening" bands.

Live in Concert is hosted by 30 year major market veteran Lisa Berigan. Her extensive knowledge of music, and familiarity with the artists, allows her to share personal insight into the significance of the concerts we feature.
Dee Snider
9am to 12pm and Sundays from 3pm-6pm
​
House of Hair is hosted by Dee Snider, the founder and front man of heavy metal band "Twisted Sister" ("We're not gonna take it"… "I wanna rock"). This show features all the best of 80's heavy metal/hair bands from artists like: Poison, Bon Jovi, Motley Crue, Cinderella, Warrant, Anthrax, Guns 'n' Roses, AC/DC and more!
​
Time Warp
Sundays 6pm-10pm
​
Radio's favorite journey through the past bringing you the sights and sounds of the 60s, 70s and 80s, mixed with the greatest classic rock of all time and hosted by the legendary Bill St James.
​